Following the Sussex-wide Children and Young Persons (CYP) Digital Mental Health Review, our e-wellbeing project partnered with Kent Surrey Sussex Academic Health Science Network (KSS AHSN) and Unity Insights to deliver the Pan-Sussex Digital Mental Health Communications Training Programme in November 2022.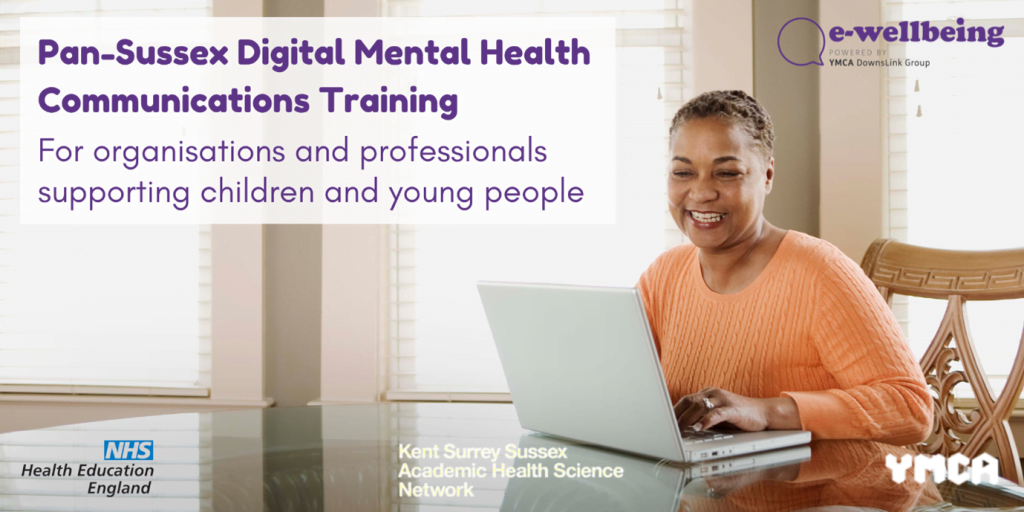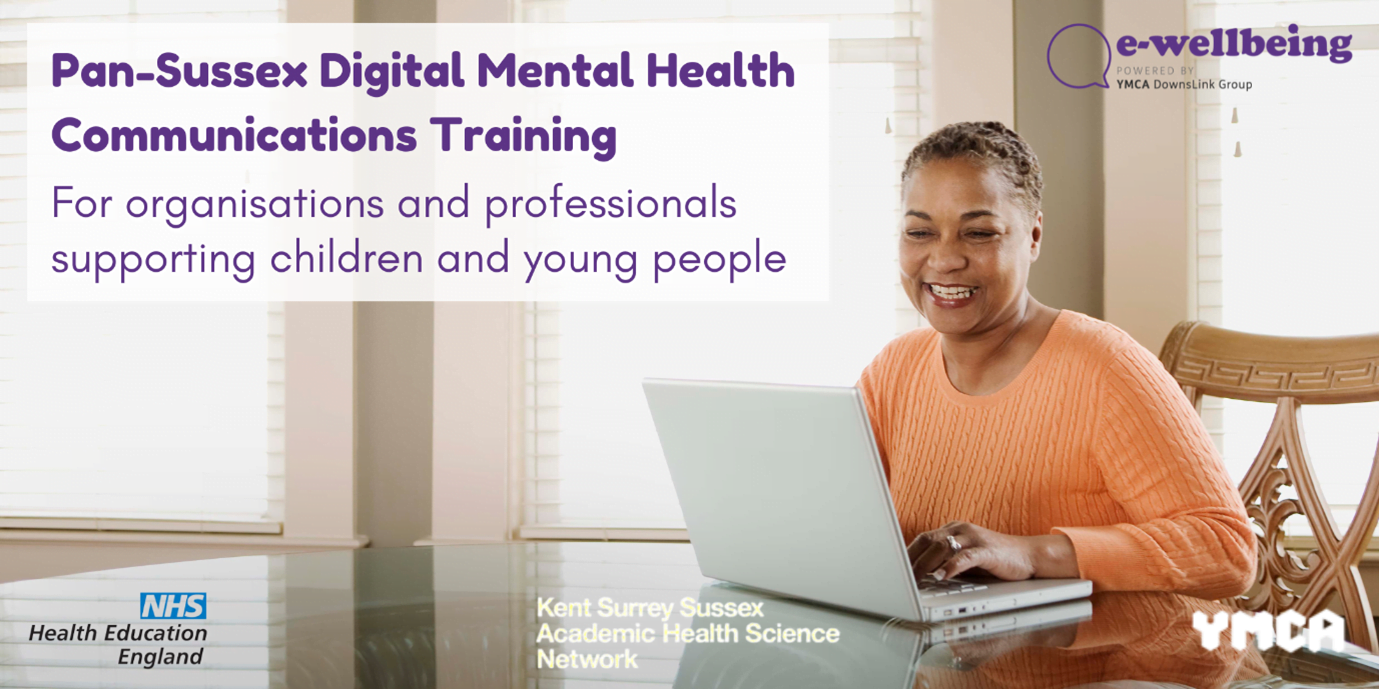 The aim of the training was to improve understanding of using digital platforms to communicate and engage with children and young people who are seeking mental health and wellbeing support online.
The training content included:
 The importance of embedding a trauma-informed approach and inclusive practice to provide equitable support for children and young people by Dr Celia Lesquerre
How to use clear and concise online communication with young people
The importance of including youth voices to improve engagement
How to embed diversity, inclusion, and accessibility
Over 200 people attended the training, which was offered to those working with children and young people across Sussex. Alongside experienced therapeutic and digital professionals from YMCA Dialogue, the training was co-delivered by e-wellbeing Youth Ambassadors, which many attendees found insightful and engaging.
Three training sessions were offered over Zoom, each tailored to one of three localities: Brighton and Hove, East Sussex, and West Sussex. The sessions included a range of elements, including youth-led discussion activities, a Digital Engagement case study, videos of young people sharing their tips for best practice, and breakout rooms.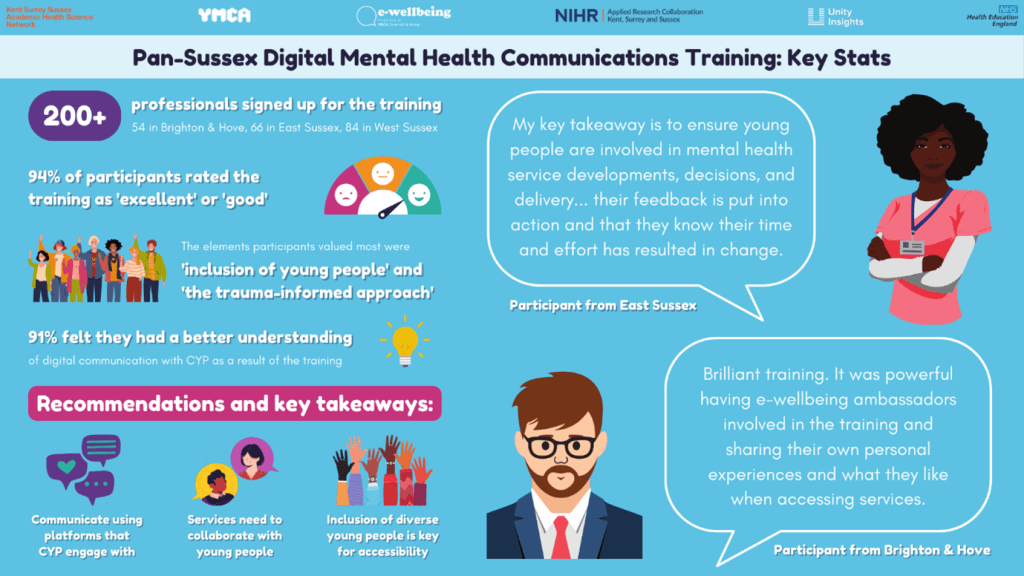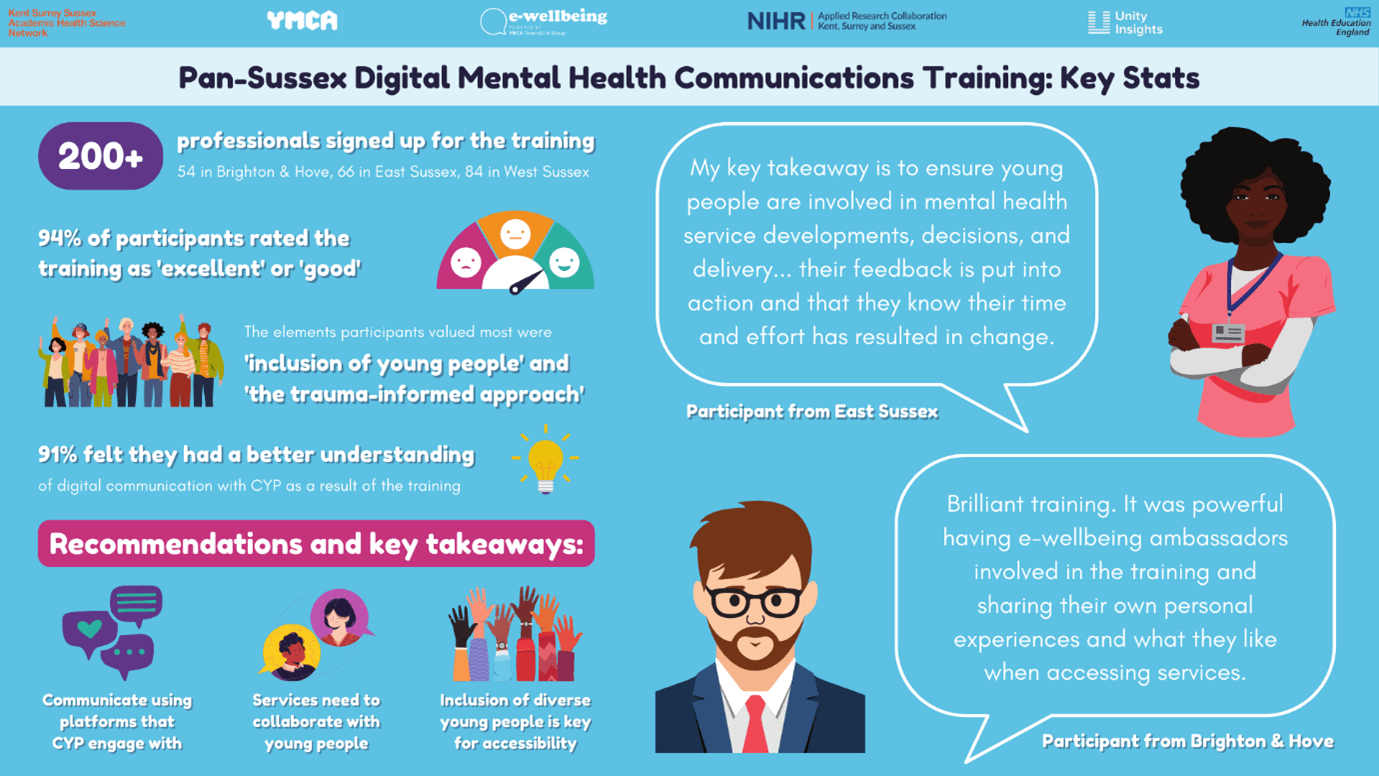 Key statistics from the training session feedback included:
94% of participants rated the training as 'excellent' or 'good'
The most highly valued elements of the training were the 'inclusion of young people' and 'the trauma-informed approach'
91% of participants felt their understanding of digital communication with children and young people had improved because of the training
Participants also shared their recommendations and key takeaways from the training:
To communicate using platforms that children and young people engage with
Services need to collaborate with young people to ensure best practice
Inclusion of diverse young people is key for accessibility
The full report, including feedback and further recommendations from participants and e-wellbeing Youth Ambassadors, along with resources from the training can be downloaded on the e-wellbeing page.