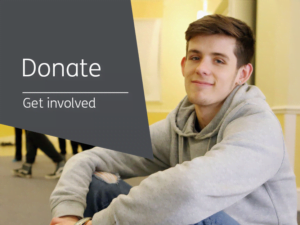 Every year we support thousands of children, young people and families through our housing projects, counselling and advice services, childcare provision and our training and education opportunities.
How is the money spent?
Good question!
Every donation you make helps to transform the lives of those we support in our local communities.
Here's what your donation could provide:
£8 buys a homeless young person food for a day
£30 buys 3 sleeping bags for the homeless in the winter
£60 pays for a young person to attend a life skills course
£175 helps to pay for emergency accommodation for a young person for a week
£450 pays for 10 sessions of counselling/play/art therapy for a traumatised child or young person
£750 pays for training to help a young person get into employment
£1,000 pays for a group of disadvantaged children to experience play and sports opportunities for a year
There are a number of ways you can donate:
1. Donate online
You can donate online via JustGiving either as a one off or a regular gift.
Don't forget to add Gift Aid to your donation.
2. Donate by text
You can donate up to £30 on any one day. All the money you donate goes to YMCA DLG and your network provider does not charge you for the SMS.
3. Donate by cheque
To donate by cheque, simply make the cheque payable to YMCA DownsLink Group and send it to:
Fundraising Department, YMCA DownsLink Group, Reed House, 47 Church Road, Hove BN3 2BE
If you pay income tax do please consider Gift Aiding your donation – it adds 25% extra to the value of your donation at no cost to you.  You can download a Gift Aid declaration form to send in with your donation.
If you would like to make a regular donation to support our work a standing order form is available.
If you have questions about any of the ways that you can donate to YMCA DLG, please call 01273 222550 or email communications@ymcadlg.org.
We have a number of volunteering opportunities available including mentoring, working in our advice centres and counselling.