Mapalo's childhood
Mapalo had a difficult childhood. When she was 7, her mum suffered a heart attack which permanently altered her personality. Not only was this scary for Mapalo, but it completely changed their relationship. Her mum regularly threw her out of the house and sent her to school with her belongings packed into a suitcase. Excruciatingly embarrassing for Mapalo, she would have to regularly present herself as homeless and the teachers would call her mum to ensure she let her back home at the end of the day.
   
When things turned around
When Mapalo turned 18, her teachers were able to help her secure a home in our 24 hour supported accommodation. She was nervous at what life in a YMCA might be like, but she settled in really quickly and was supported through her A-Levels. Staff would wake her up in the morning and give her breakfast before exams, doing everything they could to help her achieve her dream of becoming a midwife.
"YMCA is a family. I have been given a safe space, it's so much more than just a roof over my head." – Mapalo
Thriving at YMCA DownsLink Group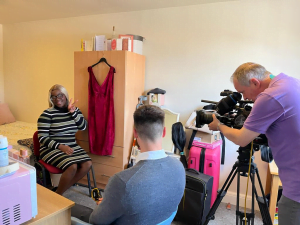 During her time with us, Mapalo threw herself into every opportunity, developing her confidence, independence and general life-skills. She travelled with a small group of staff and residents to Denmark to represent YMCA DownsLink Group at the YMCA World Conference (watch her talk about it here). She was interviewed on BBC news about the current cost of living crisis (watch the video here), as well as helping us out with our December fundraising campaign.
What's next for Mapalo?
After working exceptionally hard in her A-levels, Mapalo was accepted into university and started studying midwifery this year. We are so pleased that she was able to achieve this life long dream. We caught up with her recently and are delighted that she's doing well, enjoying spending time with new friends and preparing for upcoming exams.
With the world at her feet, we have no doubt that Mapalo will continue to thrive. We are so proud of her resilience and everything she has achieved. We wish her continued success and happiness in everything to come.