Charlie Worsfold a former resident at YMCA DownsLink Group shares her experience of Christmas in Supported Housing.

"I spent 2 Christmases in the YMCA. I remember one year I was out of work and spending Christmas Eve there alone with no gifts or cards. I woke to receive a shoebox full of amazing treats, slippers, bath goodies etc and was cooked an amazing dinner. The residents were all so happy and the atmosphere was great. I will always appreciate the effort and thought that went into ensuring we were not alone at Christmas. You have no idea what impact that place had on my life and future. I'm so thankful and lucky." Charlie, Former Resident, YMCA Horsham Foyer
What is your image of supported housing? Do you imagine a soulless institution, providing beds but not a home? Can you imagine being 18, facing homelessness, and then spending Christmas there alone – no family, no presents, no love?
Well, let's repaint the picture, because that isn't what life, or Christmas, is like at YMCA DownsLink Group's supported housing. Thanks to the dedication of our staff and volunteers, alongside generous donations from our supporters and local communities, Christmas at YMCA DownsLink Group, in any of our support accommodation projects, is a home from home.
Every year, our amazing staff and volunteers give up their time at Christmas to make the festive season special for our young residents. Any young resident who doesn't have family to be with is invited to spend Christmas Day with us. Every project across Sussex (Brighton & Hove, Crawley, Eastbourne, Guildford, Hastings, Horsham, Mid-Sussex, Worthing) does it slightly differently, but all of them will have a traditional Christmas lunch, games, and most importantly a present for every resident.
We may take presents at Christmas for granted. But, for a young person, without family, such a simple act of kindness, the giving of a gift, show's them someone has thought about them and cares. It is hard to put into words what a difference this can make to a young person who hasn't experienced much love in their lives.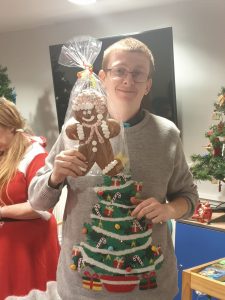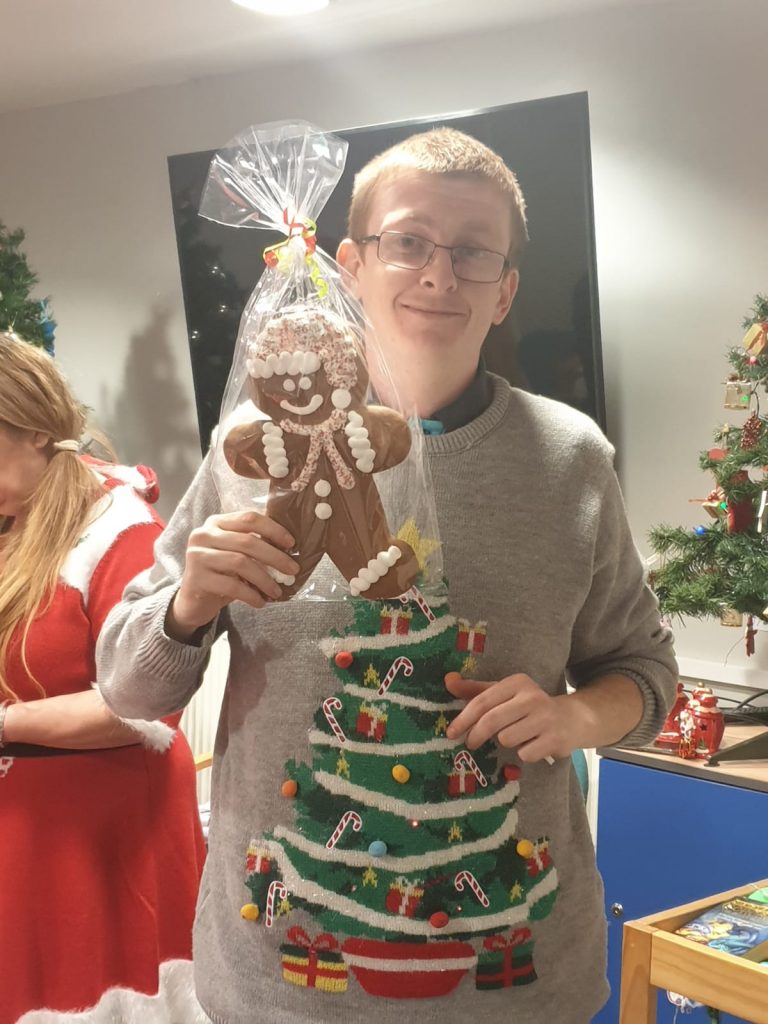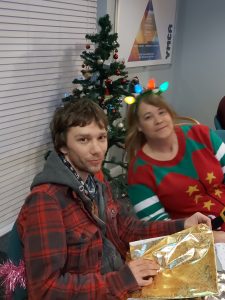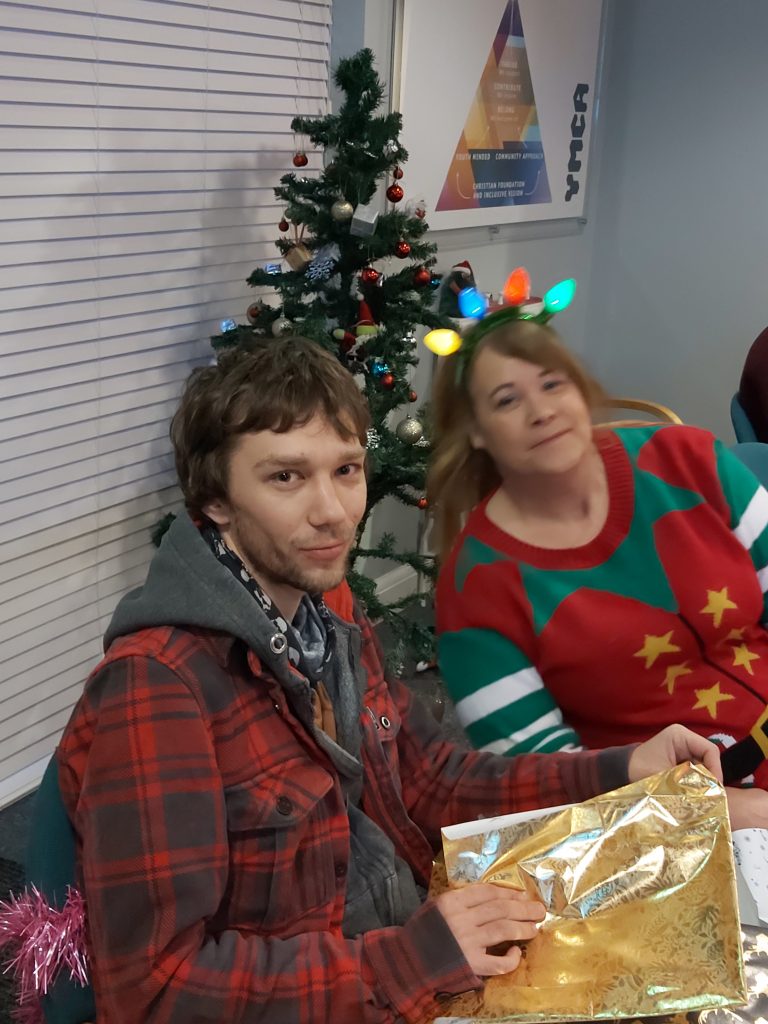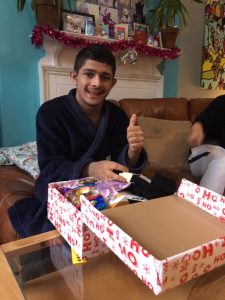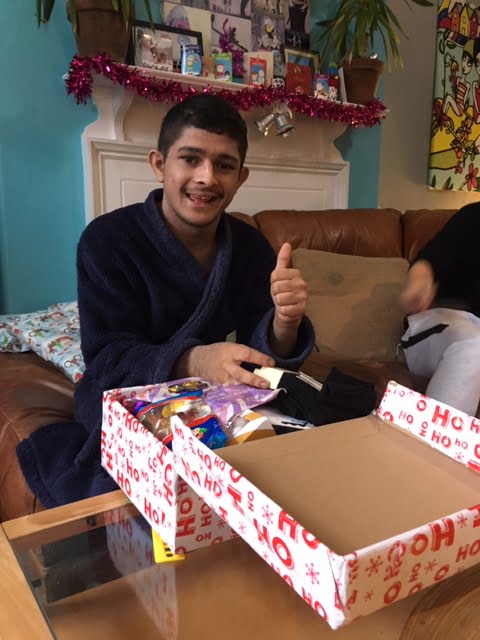 Last year, Susie was living with us, after finding herself alone at 18. She was extremely withdrawn and shy when she moved in and in the three years with us, staff worked hard to develop her confidence and encouraged her to socialise and be part of the YMCA family. This was even more important at Christmas as Mel Haynes, project manager YMCA Horsham Foyer, explains:
"Susie would have been on her own in her room if she was not supported and encouraged to attend the Christmas meal. Susie was very grateful for the gifts and engaged with the fun Christmas games. It was wonderful to see."
Thanks to the support she's received and the confidence she's gained by knowing that people care, Susie's overcome the difficulties she's faced and has gone on to study astrophysics at university.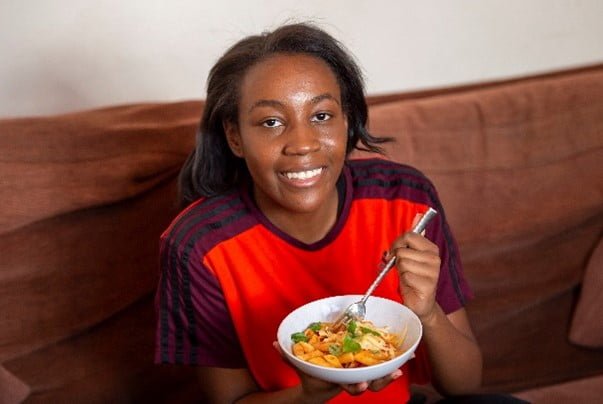 Last year, generous donations from the public to our digital, Love in a Box Christmas Appeal, meant that our key workers were able to buy personal presents for many of our young residents.
These are just a few of the comments from our delighted residents:
"I was so happy to get a lovely pair of shoes. I never have new things."
"I was excited to get a voucher so I could buy some furniture for my room – it's made my room feel so homely."
"I can't believe that someone I don't even know has given me a gift. It makes me feel warm inside."
Just like any family Christmas food plays a HUGE part in Christmas with us. In many projects residents get involved in the cooking.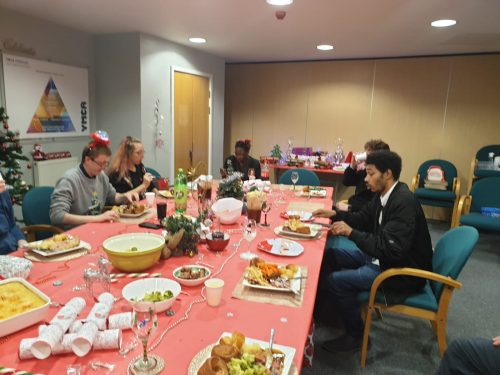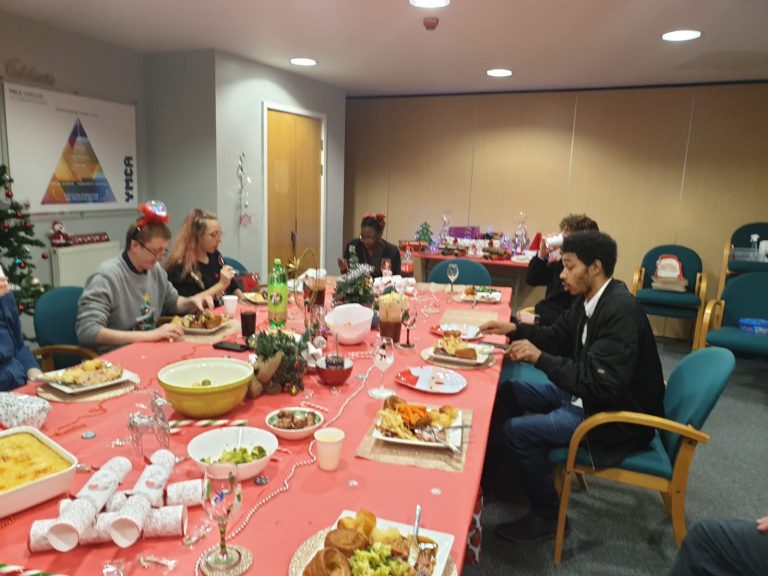 Last year, Connor, a young man who'd lost his job due to the pandemic, put his cooking skills to good use, by producing a huge feast for the residents in YMCA Horsham. Again, much of the food was donated by local businesses and was very gratefully received.
In YMCA Crawley there is always a traditional meal, followed by a now legendary meringue made by staff member, Storm.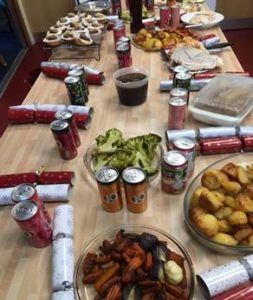 Sharon Rawcliffe, Project Manager at YMCA Crawley Foyer always makes Christmas a time for reflection and thankfulness. As 2020 was a tough year for everyone, her words were especially poignant.
"Thank you to everyone that participated in one way or another to ensure that any resident that was staying in the building had a nice, food filled, Christmas day and a lovely relaxing atmosphere to be part of.
What a fabulous team that the Crawley Foyer has – I will take this opportunity to thank you all for all of your hard work and commitment and dedication to the residents of the Crawley Foyer this year, a year that has been like no other.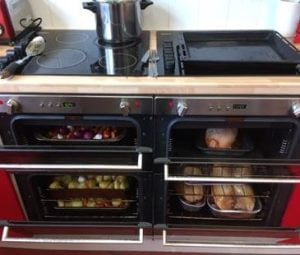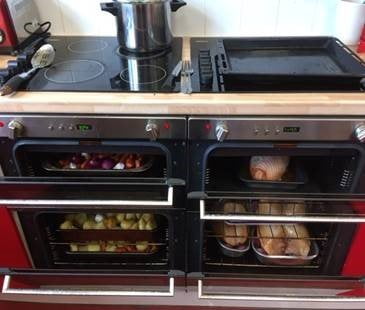 You have all ensured that they remain safe secure in their accommodation with as little disruption as possible. You have all been instrumental in making sure that no one stays living homeless on the streets longer than necessary through turning empty rooms around as quickly as possible and making every young person feel that they belong in the Crawley Foyer community."
As a charity we don't take the support we get for granted and we are grateful to everyone who has supported our work through another very difficult year. We are also immensely grateful to our committed, caring staff and volunteers who always go the extra mile to ensure that their young residents feel that our accommodation isn't simply a bed for the night, it is a home and they are part of a YMCA family.
If you would like to help us ensure that 2021 is another magical Christmas for our residents please DONATE NOW.