Saturday 12 August was International Youth Day, with the theme of Green Skills for Youth: Towards a Sustainable World. With this in mind, we thought we would share with you a recent event at our Horsham Y Centre led by UK Harvest, who are on a mission to eliminate hunger and food waste through education and the redistribution of quality surplus food.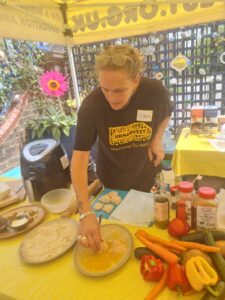 Healthy, low-cost treats were on the menu at YMCA Horsham, where an exciting food demonstration was held by UK Harvest.
Eleven young people with four support workers gained top tips on how to reduce food waste and make the most of surplus food. The team from UK Harvest prepared and demonstrated air fryer sweet potato and potato fries, veggie burgers and an array of healthy snacks.
Donna, from UK Harvest, said:
"The young people who attended were very engaged and even joined in some of the food prep. Sian, our UK Harvest chef, did a fabulous job demoing veggie burgers made with sage and onion stuffing mix, with tinned beans, veggie soup and spices, to show how to have a really low cost nutritious meal and being able to use up some of those tins that get left at the back of the cupboard."
At the end of the session there was a free raffle with prizes including a slow cooker and air fryer!
A huge thank you to UK Harvest for all their hard work and for providing a brilliant, engaging demonstration for our young people. We're excited to see how our young people take these skills into their everyday lives.