We had a brilliant evening at the national YMCA Youth Matters Awards on Friday evening. It was a truly inspirational experience. All of the awards recognise the amazing young people at YMCA and the projects and people that support them.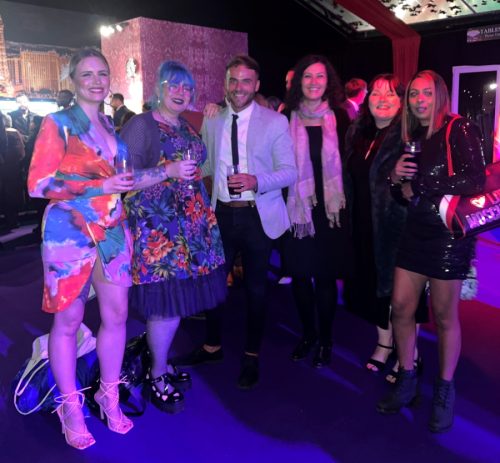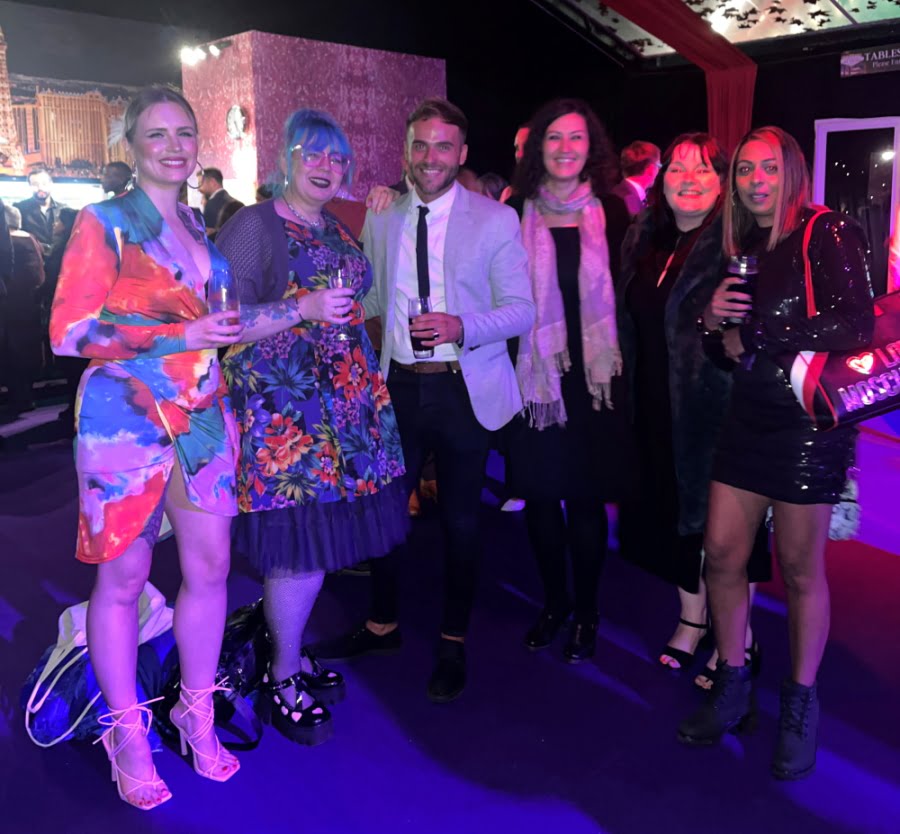 We were delighted to be finalists for 4 awards. Our Brighton Youth Advice Centre which has been supporting young people in the city for 30 years was up for two Youth Matters awards: Support & Advice Project of the Year and Health and Wellbeing Project of the Year for their Food Market. They sadly missed out, but it was great to see them alongside some other amazing projects and as was repeatedly said throughout the night – absolutely everybody at the awards was a winner.
We were thrilled that our Y's Girls project won the Family & Youth Work Project of the Year award. It's a brilliant mentoring project which works to support young women aged 9-14 identified as at risk of poor mental health, developing confidence and building resilience.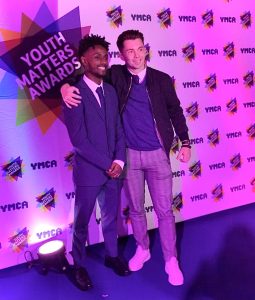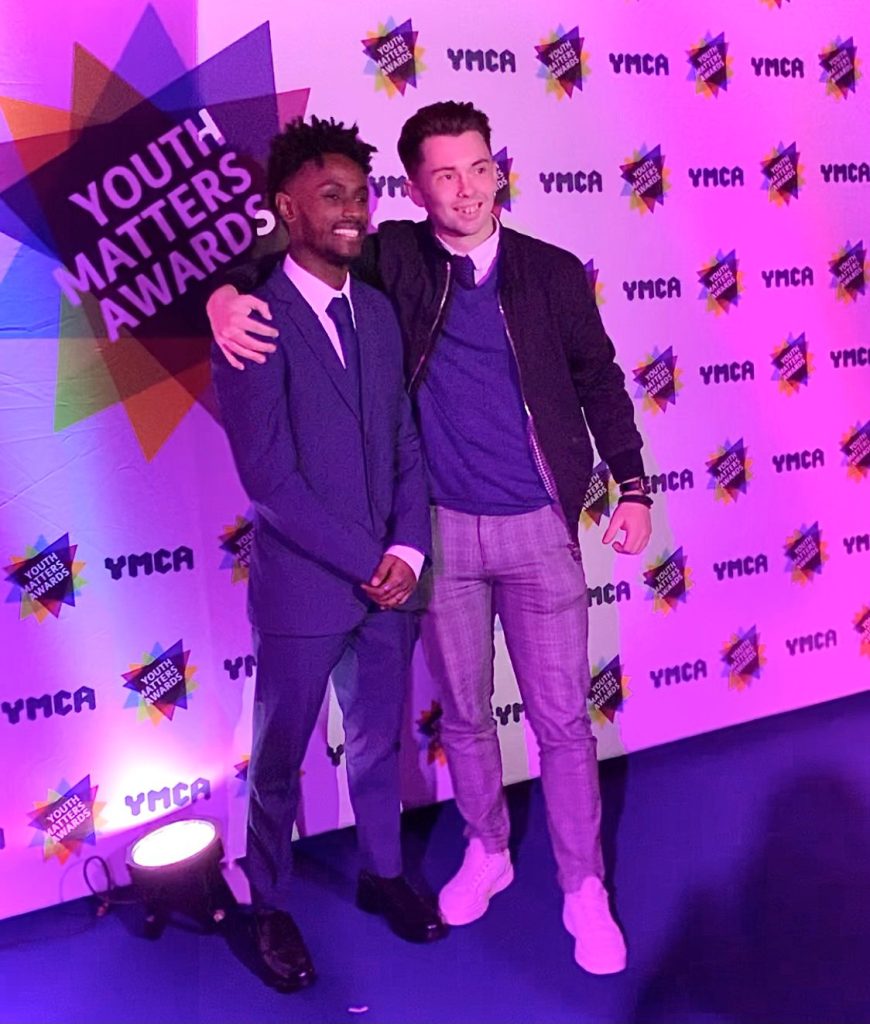 Our resident Adi was a finalist for Youth Matters Young Achiever of the Year. Like many of the other categories, the stories of the 3 finalists for this award had us in tears as they had all overcome extreme adversity to achieve things that none of them deemed possible before the help of YMCA. Adi unfortunately missed out on the win. However…
In a dramatic twist Adi WON the Lewis Sewell Memorial Award (The Lewis Sewell Memorial Trust) for courage, resilience and positivity. The award was presented by celebrated choreographer and original Strictly judge, Arlene Phillips, who said:
"He is an incredible young man, and I am proud to present the award to him. Let's hope that his future is in the arts because it sounds to me that he well deserves it."
Watching Adi's face light up as he realised he was about to win was a moment we'll never forget. In his acceptance speech, Adi said:
"I want to say thank you to the beautiful YMCA staff, and the beautiful Jessica, this is all because of you.

I also want to say, especially to people that came from a poor background, from struggle or hard places, that where you came from is not who you are, and it is clearly not where your destination is going to be. Me, and the other nominees, are living proof of that."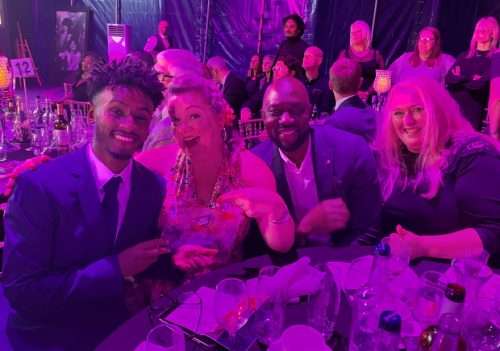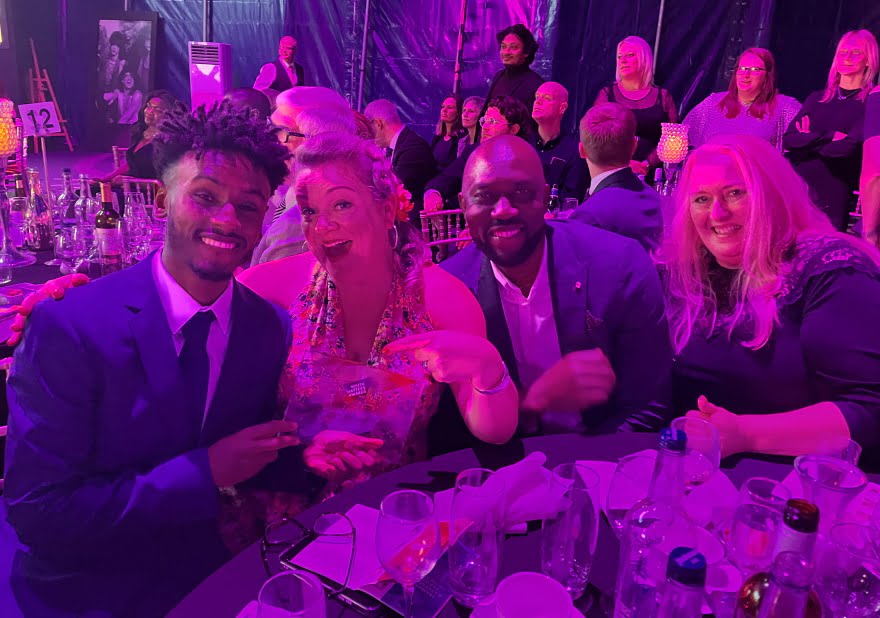 Not only did Adi win a shiny award with his name on, but also a donation in support of his journey in performing arts to help pay for training, equipment, travel to auditions etc. On top of this all, he also received an invitation to perform in their West End show next year! Watch this space…
Jessica Griffiths, Inspire Coach Guildford, tells us more about the evening:
"What an incredible event for some of our young people to be part of. I don't think they stopped taking photos and videos all evening as there was so much to take in.

I loved an opportunity to get my glad rags on and felt spoilt being served a delicious three course meal and watching the entertainment and dancing at the end of the evening.  The best thing for me, was being able to support my nominee and one of the YMCA DLG Youth Matters finalists, Adi. He was totally buzzing for the whole evening and so many people went up to him to congratulate him, I don't know how long it will take him to come down.

I feel honoured to have been there, be part of it and to work for an organisation who work so hard to support all of the young people and families that we do. The staff and volunteers are amazing."
Jayne Barber, Deputy Manager at Guildford Foyer, also said:
"It was lovely to be allowed to blub a little, smile a lot and whoop and holler at all the remarkable achievements of the young people , services , staff and volunteers that received recognition."
We want to say a huge thank you to everyone who voted for Adi, Brighton Youth Advice Centre and the Y's Girls project. And of course, a massive congratulations to all of our finalists – we couldn't be prouder!