Last week YMCA England & Wales launched their annual report into the funding of youth services in each local authority. It showed a 73% decline in spending on youth services in the last 11 years (read more here) and highlighted the need for projects such as our amazing YAC Food Market led by Joshana Pemberton who recently won a well deserved award.
We are really proud that at the recent national Room for Young People Awards, Joshana Pemberton (they/them) was the winner of the Innovative Action category for their amazing work with YMCA YAC Brighton Food Market. Well done Joshana! 
Joshana attended the awards ceremony earlier this month in Birmingham and tells us all about it below.
The Room for Young People Awards were set up to recognise examples of young people, practitioners and services using their strengths and talents to overcome barriers and challenges and look to the future as well as recognise, promote and celebrate their brilliant work.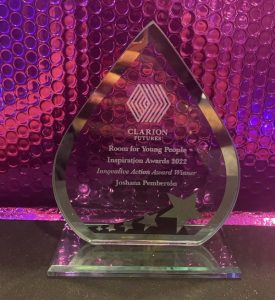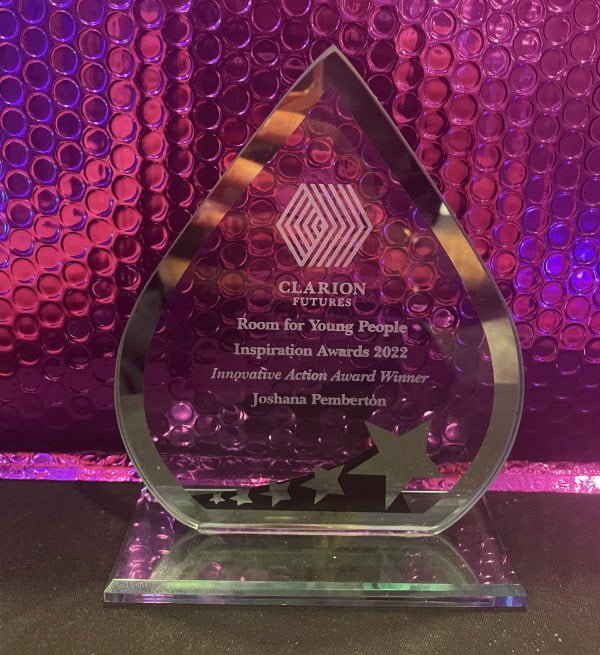 It was amazing to be nominated by Hyde Housing for the Innovative Action Award and attend the awards ceremony. This particular award recognises individuals who have demonstrated creativity and forward thinking to involve young people, showcasing an exciting way for young people to express their power and voice, inspiring others through positive action.
The event was a great opportunity to meet young people, workers and learn about other services from all over the country, who show selfless determination to support their communities, the young people they work with, and inspirational young people who have overcome significant barriers throughout their lives and have achieved great things.
It was a humbling and enriching event enabling the sharing of ideas, positivity, and talent of young people from all over the country. The level of intersectionality in the room shows the progress organisations are making to create an equitable and welcoming space.
Winning the Innovative Action Award for setting up the YAC Food Market means a huge amount to me. I feel so proud of what the Food Market has achieved, the amount of young people we have been able to support, and the work myself and my team have put into it. Special shout out to Jo & Almu for their unwavering support, kindness, and work. Our greatest source of happiness is watching young people walk out the door with bags of shopping and seeing them come back week after week, sharing their experiences, and gratitude.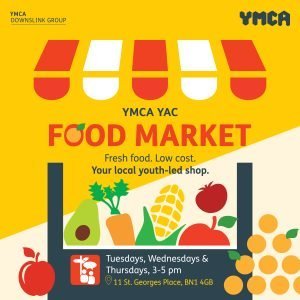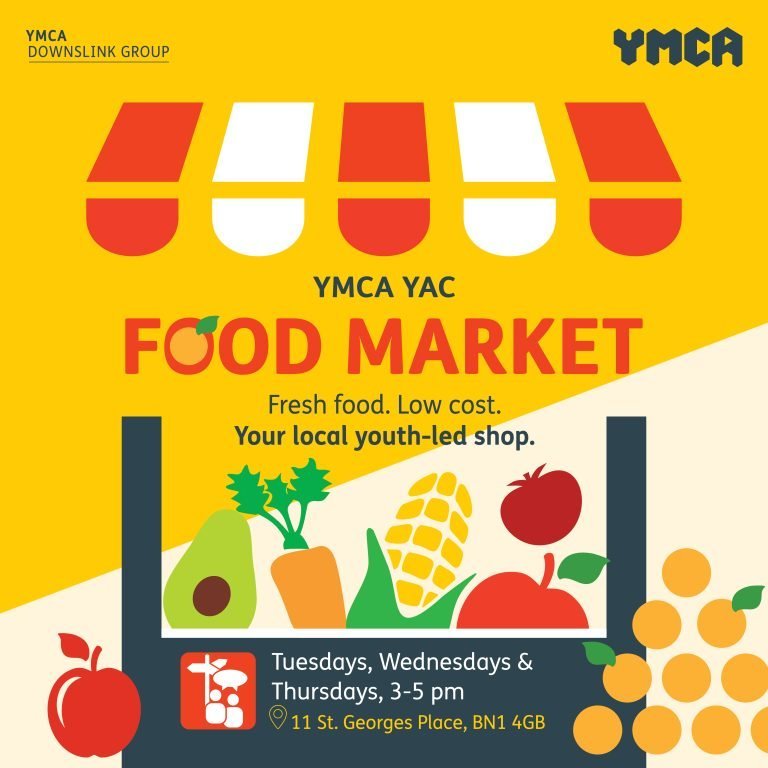 YAC Food Market is a Youth-Led sustainable social grocery store in Brighton and Hove, supporting young people in accessing healthy, low-cost foods and shopping products at a simple one-stop shop – an easy way for young people who struggle to afford the rising cost of goods in a modern and sustainable approach to food waste and food poverty. The Food Market is keen to empower young people throughout the project, seeking volunteers, feedback, and inspiration for how YAC Food Market can reflect the needs of our community.  We are not a foodbank; our ethos is to support young people with food for free / low-cost and in a positive and empowering way.
Finally, thank you to Connie from Hyde Housing, who nominated me for the award, for her support and recognition of the potential of the Food Market and for helping us to build it to the project it is today.
To find out more about the brilliant work of of our Brighton Youth Advice Centre, visit our web page here.