The YMCA Youth Council were delighted to have been invited by Hove MP, Peter Kyle (Shadow Secretary of State for Northern Ireland) to have a private tour of the Houses of Parliament.  Six young people from across the organisation (Hastings, Brighton, Crawley, Eastbourne and Guildford), supported by the Inspire Team, travelled to Westminster on 3rd July to meet with Peter Kyle.
What unfolded, in the words of our Youth Council, was truly amazing! Taking nearly four hours out of his hectic schedule, Peter Kyle gave a complete tour of the Houses of Parliament. The day began with an explanation the function of Parliamentary Committees in Portcullis House, and ended up in the epicentre of the Houses of Parliament. Taking the tunnel under the Thames, our Council were guided into Westminster Hall at the Palace of Westminster (where the Queen lay in state) and into the House of Lords and the House of Commons.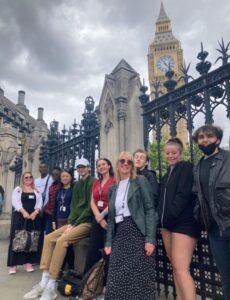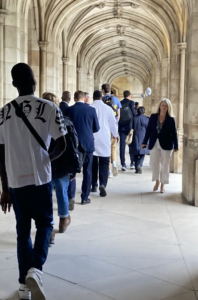 Walking through the ornately decorated corridors, halls, libraries and private dining rooms, past statues of infamous former Prime Ministers and paintings of past Royals, the historical significance was palpable and particularly enjoyed by two members of the Youth Council who had an active interest in history. Peter Kyle is clearly a well-respected and popular MP and throughout the tour, the Youth Council were introduced to various different staff and Members of Parliament including Alan Campbell (Labour Chief Whip) and Peter Bottomley, (MP for Worthing West).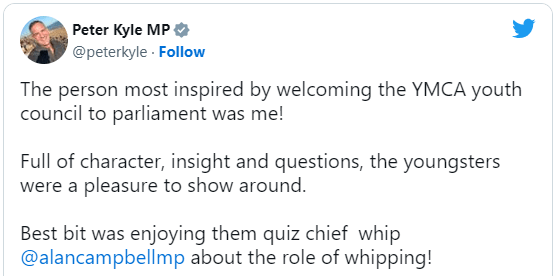 After lunch on the Lords Terrace, it was time to see democracy in action with questions being asked of Home Secretary Suella Braverman in a House of Commons debate. Significantly for our Youth Council members, debate centred on policies around asylum seekers and street crime. Listening to the debate unfold, the Youth Council members at first maintained a dignified silence but became quite vocal as the debate continued. It was great to hear them passionately expressing their opinions and two of the team afterwards, expressed a real interest in getting more involved in local politics.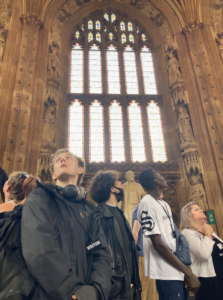 We are hugely grateful to Peter Kyle for sharing his insight, his passion, his honesty and his time. It was a really important day for the formation of this new YMCA Youth Council and was hugely inspiring for everyone who came along. Its impact on each of the Youth Council, although different, was very evident.  Their summary of the day was: 'amazing', 'monumental', 'bellissimo', 'British', 'exciting' and 'mind changing'.
We look forward to the next YMCA Youth Council which will be held in early September, and to seeing how young people use this experience to influence and effect change for themselves and for the YMCA DownsLink Group.