Hannah Peckham, award-winning author and one of our YMCA Dialogue counsellors, has written an amazing new children's book Conker and the Monkey Trap which explores the five steps of wellbeing. You might remember Hannah from our previous interview about her book Conker the Chameleon which focused on talking about feelings. Hannah's books aim to open up conversations and give children the tools and vocabulary around feelings and wellbeing.
For the launch of Conker and the Monkey Trap, there is a wellbeing trail around Leonardslee Gardens until 24th July. The trail is Conker themed and looks at different emotions such as happiness, sadness, worry or being cross. There are also exercises surrounding the senses, including useful breathing exercises. The trail will take you around the peaceful lake and ancient gardens, reiterating the wellbeing benefits of being in nature. Hannah will be there on 16th and 24th July to do a reading of her new book and run a short workshop for children at 11am. To get tickets to the wellbeing trail, click here – and for 50% off entry use the code: CONKER22
Conker and cosy on tour @LeonardsleeG @cosydirect
The release of my new childrens book #conkerandthemonkeytrap is being celebrated with a well being trail and workshops plus sneeky first look reading.

Come and join us x#sussexmums#sussexlife#childrensmentalhealth#wellbeing pic.twitter.com/sfQhmKZeoC

— Hannah peckham @h.j.peckham (@h_peckham) July 3, 2022
We caught up with Hannah to find out more about her new book:
What is Conker and the Monkey Trap about?
The book looks subtlety at the five steps of wellbeing, focusing on things like being outside in nature, breathing and talking about feelings. It is a gentle introduction to the foundations of mental wellbeing. And it uses Conker again, the star of my first book, but there is also a lonely monkey and a rainbow lorikeet who all end up becoming good friends and helping each other. They learn that being brave isn't just about waving a sword, it can be about asking for help, talking about your feelings, finding the courage to step out your comfort zone or even help someone else.
In the back page there are some activities to consolidate the learning throughout the book. One activity is about what different things can be helpful if you don't feel good inside. Another looks at bravery and what makes you brave, and how sometimes letting go can be the bravest thing to do, because sometimes if you don't let go, worries can get bigger and bigger inside.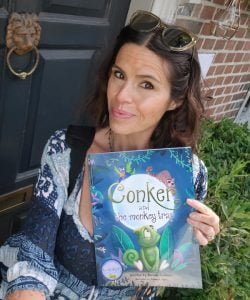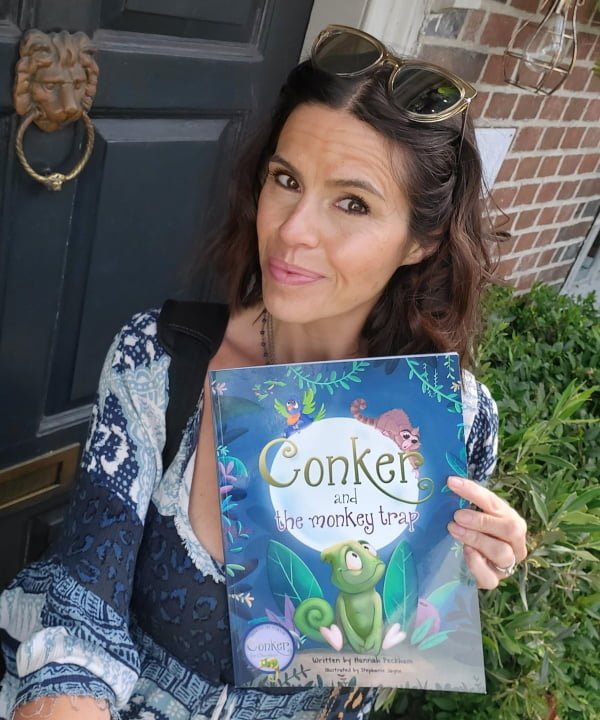 What was the inspiration behind the story?
When I was doing my counsellor training, one of the tutors told us about the ancient South Indian way to catch a monkey, which has become quite philosophical surrounding letting go. It says to take a hollowed-out coconut and fill it with treats. The monkey reaches its hand into the and grabs the treats inside. Its hand is in a fist shape holding the treats; however, this means that it can't get its hand back out of the whole hole. If the monkey could see past the treats and let go, it would be able to remove its hand. But because it's so focused on the treats, it won't let go and is stuck. This plays into modern society and can teach us about letting go, for example letting go of worries can help with your mental wellbeing. This was the philosophy behind my book, but all packaged up in a child friendly way.
What do you hope to achieve through your books?
All my books hope to start conversations and lay foundations for parents with young children. As a counsellor for YMCA, I work with young people talking about feelings, but my books aren't about counselling, they are more about opening up those conversations with children and giving them the resources and emotional vocabulary to express themselves and to help them if they find themselves in a place where they need counselling. In 2021, an NHS survey found that 1 in 6 children have a diagnosable mental health problem. I have a 3 year old son, so I'm just hoping to open up those conversations and build that language around feelings and wellbeing and how important it is to have that vocabulary –just as important as it is to learn to count and all the other things primary school teaches. I want to give parents a tool to help with social and emotional learning.
Many people don't have those tools or vocabulary. But why not? And why don't we teach them to our little people as a priority? Because when they do face difficult times, which everyone does at some point, they are vital resources to call on.
What is your writing process?
It's really similar for each of my books. Some days I just don't have anything in my head, but then it usually happens quite quickly, and an idea comes. For example, the Indian tale of the monkey trap was always in my head and when I sat down to write something else, Conker and the Monkey Trap came out instead.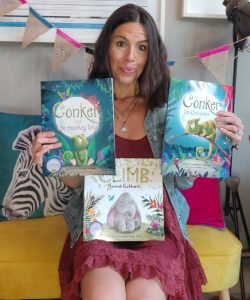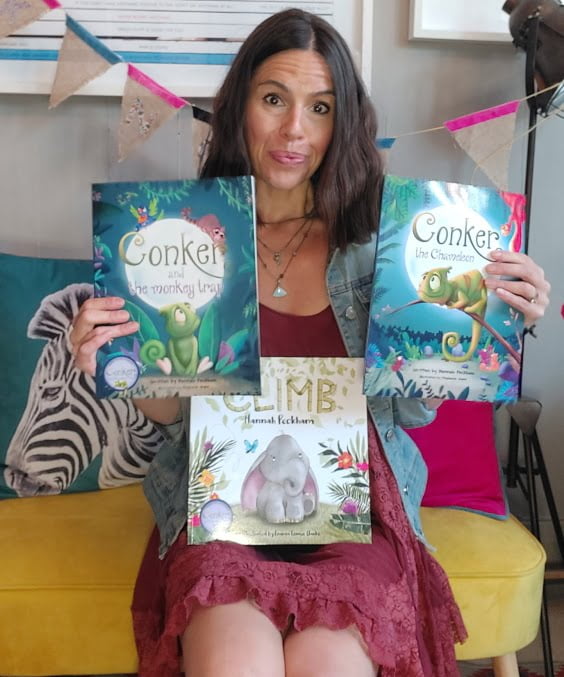 Do you have any plans for future books?
I do! I've written one which is possibly my favourite yet, and it's about self-care. Some of my books are about giving to others, but it is also really important to look after yourself, and I think we live in a world where we often feel guilty about taking time for ourselves, taking time off work, setting boundaries etc. We often give and give until we fall apart. So, this next book is about a rather tired unicorn who has used up his magic, and I love it!
And I have another one about a little fairy and mind maintenance and again, about good self-care and the little voice in your head.
I have lots of ideas. They are all about wellbeing and being kind to yourself and others. They all have an underlying message.