Do you remember Mapalo?
This time last year Mapalo was living in our supported accommodation after being made homeless at 18.  She bravely shared her story with us (the girl with the pink suitcase – below) as part of last year's Christmas Appeal.  She was keen to tell her story so that people could understand how finding a safe, supportive home at our YMCA had changed her life.

Well, what a difference a year makes! This Christmas Mapalo is at university, on her way to fulfilling her dream of becoming a midwife. Read her update here: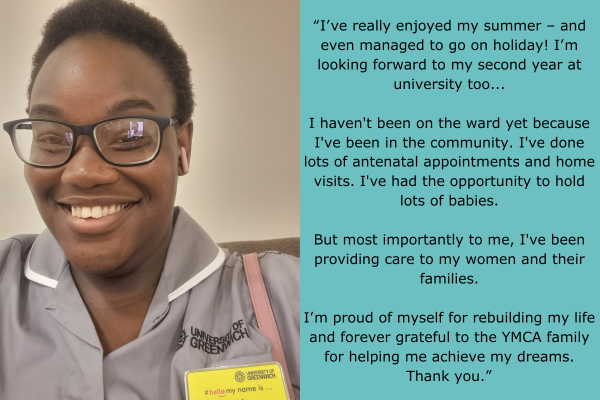 Thanks to the care and support she received from our dedicated staff, alongside her own hard work and determination, Mapalo is following her dream of becoming a midwife. By supporting and donating to our Christmas Appeal you can help other young people, like Mapalo. 
The cost-of-living crisis has put a strain on our services and we're seeing unprecedented demand as young people, in particular, cannot afford private rents. Across the South-East, councils are seeing a 300% increase in people presenting as homeless.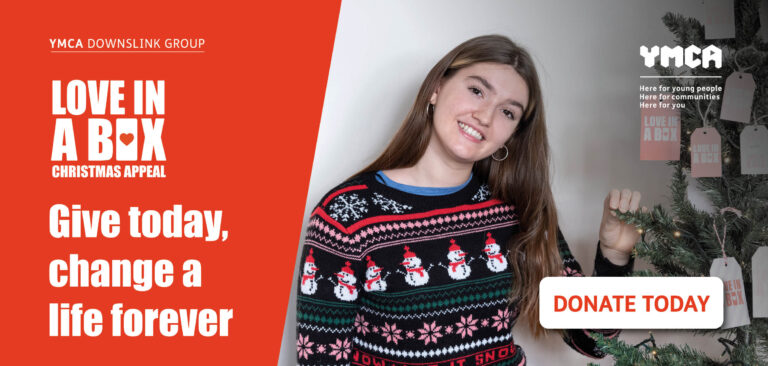 Every night we provide a safe home to over 650 children and young people at risk of homelessness, some as young as 16. But, more than just a home, by stepping in at this crucial age, we give them a second chance and a future to look forward to.
We provide wraparound support so that our residents can overcome whatever trauma and challenges they've faced in their young lives. Every young person has a dedicated Project Worker, who gets to know them individually, so they can get them the emotional or mental health support they might need, alongside helping them develop basic life skills (many of us with supportive families might take for granted), such as cooking, cleaning or budgeting. Most importantly, we encourage them back into education, training or employment so that they can start to imagine, and build, an independent future.
Someone like Ben. Earlier this year, Ben got in touch with us to share how his experience at YMCA DownsLink Group changed his life.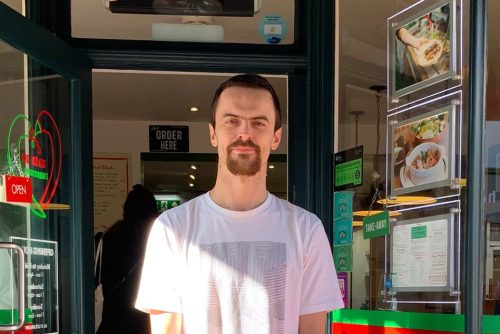 "I had such a difficult childhood, years of being abused as a kid. When I went to school, I was a bit all over the place, getting excluded and being in trouble a lot. My mum couldn't cope, so she kicked me out at 15. I found myself stuck in adult accommodation. It was horrible, with walls crumbing around me and people screaming every day. It was such a scary place to be. I was in such a dark place. I couldn't see happiness and thought there was no hope.
But I consider myself lucky. I had two teachers who rang the hostel every day saying, "he can't stay here, it's horrible".  I'm so fortunate that they kept going and I got moved into 24 hour supported accommodation with YMCA DownsLink Group. They gave me a nice home to live in and a safe space. They looked after me and helped me get a job when I was 16 as a kitchen porter. I then moved on to cheffing, working in hotels here and in France, which was incredible!
Fifteen years on, I'm a qualified chef, with my own home, living happily in Sussex. I am forever grateful to the YMCA and to everyone who make it possible for young people like me to move on in life."
If you would like to make a difference to the lives of children and young people in your community donate HERE.