It is with a heavy heart that we announce that Pudz, YMCA DownsLink Group's therapy dog, passed away last month. Pudz's role was to help young people be able to engage in therapy and counselling, provide a safe space and break down anxieties. Pudz worked with over 120 clients and completed over 2000 hours in his time within the service and he will be greatly missed. This case study is a tribute to him and his incredible work.
Canine-assisted Counselling Case Study: Paula
Paula has struggled with anxiety and confidence issues since she was young. She previously tried a treatment called EMDR (Eye Movement Desensitization and Reprocessing – a type of psychotherapy) with the NHS, which helped at the time. However, as she got older she was finding it hard to control her emotions and temper and felt very overwhelmed a lot of the time. She had become dependent on family members and was struggling to go anywhere new, so asked her mum for help. She took Paula to their GP, who helped make a referral to CAMHS (Child and Adolescent Mental Health Services).
During Paula's CAMHS assessment, they realised she had a love for animals and that, a bit like Dr Dolittle, she found it easier to talk to animals than humans. They told her about Canine-assisted Counselling in the Brighton & Hove Wellbeing Service and helped make a request for support.
The Children & Young People's Wellbeing Service is a free NHS mental health service for 4-17-year olds in Brighton & Hove, who are experiencing mild-to-moderate mental health needs. It is delivered by YMCA DownsLink Group in partnership with Sussex Partnership NHS Foundation Trust (SPFT) and offers a range of counselling and therapy options, as well as community support and social prescribing.
The Wellbeing Service agreed that Canine-assisted Counselling would help Paula to explore her thoughts and feelings, and to build her self-confidence, so she was given a space and started a series of therapy sessions with Andrew and Pudz the dog.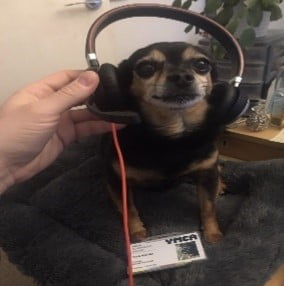 Paula was nervous at her first session but after going for a walk with her mum, Andrew and Pudz, and being able to hold Pudz lead, she was able to relax. After initially wanting her mum to be in every session, Andrew helped Paula grow in confidence and independence so her mum could sit in the waiting room or even go for a walk.
Andrew and Pudz helped Paula to feel calmer and manage her outbursts, teaching her some breathing and counting exercises. She was also given a colour changing glitter photo frame with her family inside. Each of the colours relates to a different mood, so she can help explain to her family what mood she is in, and the glitter helps her relax as she watches it fall. After discovering her love for arts and crafts, Paula was encouraged to do rock painting and draw storyboards of her feelings at home.
Paula says the best part of her sessions was Pudz – who acted as a distraction and gave her the confidence to talk to Andrew. Having heard about Emotional Support Animals (ESA's) and with Andrew's support, Paula and her family began to investigate this, eventually leading to Ralph the puppy! He arrived just as her sessions with Andrew and Pudz were ending and Paula was able to bring Ralph in to meet Andrew when he was 10 weeks old.
Ralph is now eight months old and a registered ESA and helped Paula enormously as her family had to shield for an extended period during the covid-19 pandemic.
Looking to the future, Paula is enrolled to start her second year at college but also has an Apprenticeship interview coming up.
Paula says, "I would just like to say thank you to Andrew, Pudz and my family. I was at a really low point, but it made me realise that I have to keep going and enjoy life and that I have a lot to offer. Who knows what the future holds, but it certainly looks a lot brighter than it did."
To find out more about our counselling services, click here.