We're delighted to announce our partnership with Big Hug Brewing via the Work for Good scheme. Work For Good allows small businesses to legally donate and support charities of their choice through sales of their products without any tax or legal implications/complexities.
We were approached by Matt, the founder from Big Hug Brewing after he chanced upon a promotion we were running with Patty & Bun, one of his customers, back in 2021. Matt believes passionately in giving back and having a social cause was a fundamental part of his business and brand values when he set up his bespoke brewing business back in 2014 with the express intention of creating 'accessible, easy drinking craft beers with a social conscience'.
The aptly named, 'Second Chance' is a hazy, golden yellow, hop forward, easy drinking Session IPA that Matt developed to help raise awareness of YMCA DownsLink Group's work to tackle youth homeless, whilst also raising funds. So far Big Hug Brewing have donated £501.40 from sales of 'Second Chance' which has gone towards funding emergency accommodation for young people via our Youth Advice Centre in Brighton.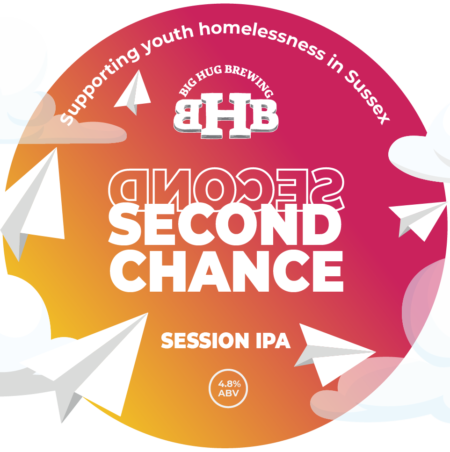 The company has recently brewed a second batch of 'Second Chance' with £5 from every 30L keg and 10P from every 440ml can donated via Work For Good and used to help fund the running of our Youth Advice Centre in central Brighton. We're pleased to be working together and Matt has some great Brighton venues already on board stocking the beer for this year including the Brighton i360, the iconic Lion and Lobster pub, The Walrus and lots of other venues in the pipeline from April.
Thanks to Matt and everyone at Big Hug Brewing for supporting young people to get back on their feet and give them a 'second chance' at a brighter future.
To find out more visit their charity page here.