We have seen so much fantastic support from YMCA Horsham Football Club in the past few months. They have taken part in the 44 Challenge, organised a charity football match and donated chocolate treats to Horsham Y Centre at Easter.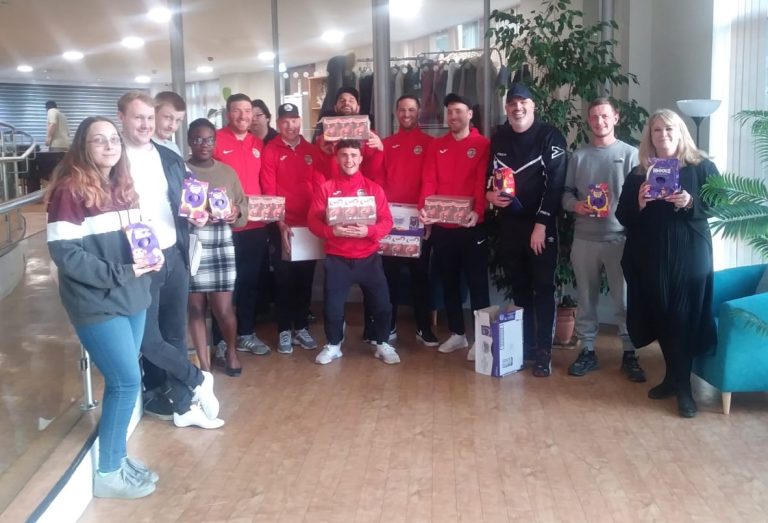 YMCA Horsham  Football Club dates back to 1898 and has been playing home matches at Gorings Mead for over 90 years. On Sunday 1st May, they organised a charity football match where some Horsham Y Centre residents played alongside ex-pros. Mel Haynes, deputy manager at Horsham Y Centre was amongst the many supporters on the day.
Speaking about the day, Mel said:
The residents really enjoyed the opportunity of playing in the match and ended up on the winning team! The residents have also been given the opportunity to work with the football club in the future and even get involved with more matches.
YMCA Horsham  Football Club also took part in the 44 Challenge, doing something 44 times every day for 44 days!
Thank you @horshamymcafc for taking on our #The44Challenge doing something 44 times daily for 44 days! Tomorrow, Sunday 1st May, the club is putting on a charity football match at Gorings Mead in #Horsham. Everybody's welcome, gates open 10.30am, kick-off 11.30am. See you there! pic.twitter.com/TTPnwWBeIq

— YMCA DownsLink Group (@YMCADLG) April 30, 2022

The campaign raised money and awareness surrounding the shocking statistic that the average age of death for someone experiencing street homelessness is 44. During the challenge, the club raised an incredible £1345.22 and kindly presented a huge cheque to us after the charity football match.
Thank you so much to YMCA Horsham Football Club for all the hard work and support!