Throughout June, Brighton based artist Carina (@carinathumbelina) has been hand painting a beautiful mural in the outdoor communal area in our young families project at Gocher Court. She wanted to bring nature into an enclosed space as it can instantly make people happy and bring colour into their everyday lives. When Carina saw our advert looking for a mural artist, she knew it was meant to be. Carina was a resident at YMCA Wellington while she was at college, and it was during this time that she discovered her passion for art and used it to channel what was going on in her life. She wanted to give back to YMCA after it had such a positive impact.
The space at Gocher Court is important to residents and is often used for group work or socialising with one another. Many residents and staff thought it needed some colour and to be more inspiring, particularly as it is often the setting for some difficult conversations. Carina was the perfect person for the job, and has transformed the space into a magical, natural wonderland.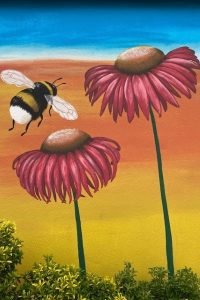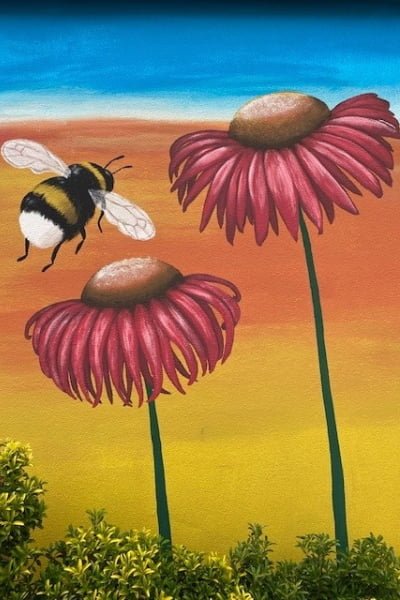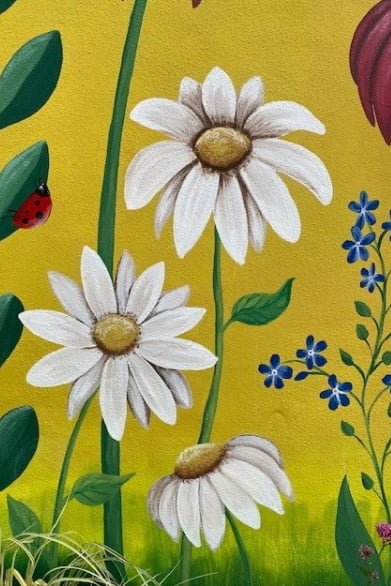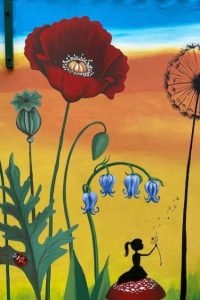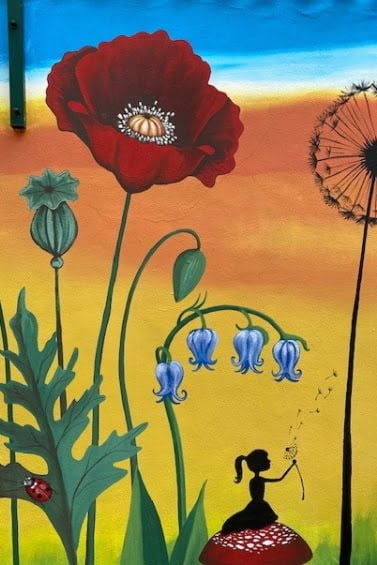 Carina tells us more about her mural and why it means so much to her:
I've had a great time painting this mural! My previous/current work is as a Scenic Artist making sets, installations, props and décor for events and interior, but I want to create more spaces that bring people joy, to help improve mental health and wellbeing.

I couldn't believe it when the advert came up on my local Facebook noticeboard, I'd been looking for work as a mural artist and it could have been any space or anywhere, but it happened to be YMCA. I knew it was what I had to do.

YMCA helped me when I was going through a rough time in my life. I was living with YMCA Wellington for 2 years while I was at college, and it was a really positive experience. It was at that point when I really focused and got into art, I needed to channel what was going on in my life into something positive and for me that was art. To be able to give back at this point in my life now that I'm all good, it means so much.

The little girl in the design represents the children here at Gocher Court. She is blowing on a small dandelion clock, symbolising her wishes and hopes for the future. The way that the dandelions become bigger and merge with the starlings show how these hopes and wishes can grow, and that this change can happen here in Brighton.

I'm really drawn to the idea that if you immerse yourself in giant nature, it becomes a magical, oversized world. You can't help but be affected by it when it's giant. I want to create immersive environments and use them to improve people's mood. I've had this vision for a long time and this project has been my starting point, I'm so grateful that YMCA trusted me with this huge blank canvas and I'm really happy with how it has turned out!

Overall, I just want to make people happy and use my art to help people.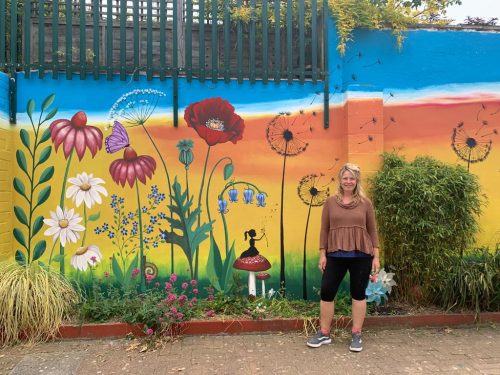 Thank you so much to Carina for brightening up this space and bringing joy through your art!
Carina is looking for more work as a mural artist so if you're interested in finding out about her work, or want to involve her in another YMCA project, email her at [email protected]