Mental Health is just as important as physical health and there is no age barrier to experiencing mental health challenges. This year, perhaps more than any other, we've all faced circumstances which have tested both our ability, and our understanding, of how to manage our own mental health. For many the pressure and anxiety created by COVID-19 has exacerbated underlying issues. Following on from the success of our e-wellbeing digital platform, aimed at young people, we're extending the reach of our online digital mental health service and have launched e-wellbeing for adults a resource for adults of any age.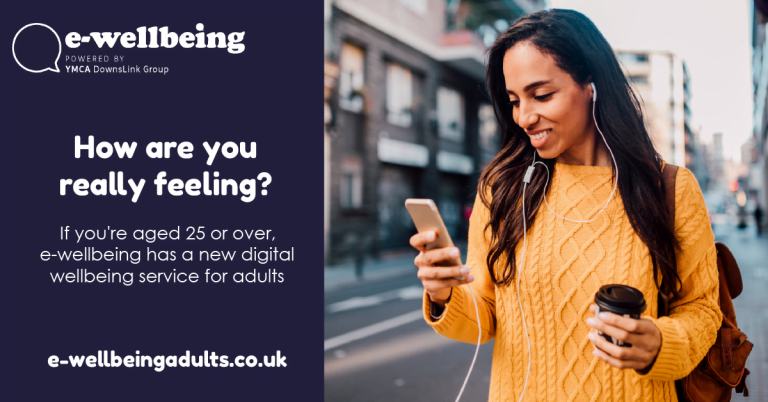 e-wellbeing for adults is an NHS approved digital wellbeing service, and it provides advice, support and a clear pathway to local services in Sussex for any person in need of mental health support.  We are one of the South East's biggest providers of counselling services (YMCA Dialogue), and we received funding from Sussex Partnership NHS Foundation Trust to develop this new digital mental health platform so that adults across Sussex can access the help they need.
The pandemic has impacted everyone's mental health. As we transition into a 'new normal' and adjust to a new way of working, studying and interacting with family and friends, mental health has never been more important than it is now. Statistics* show that a staggering 1 in 4 people experience mental health issues each year and it is estimated that at any given time, 1 in 6 working-age adults have symptoms associated with mental ill health. This mental health epidemic isn't just at a personal cost to an individual's wellbeing, but is responsible for 72 million working days lost every year.
e-wellbeing for adults is different to other websites, in that it poses a series of questions to help guide adults of all ages to the appropriate content. It provides them with self-help guidance and information about different aspects of mental health difficulties and supports them to make the decision about whether they may need help from a professional service. Crucially, they will then be connected with information about services in their local area. It should also ensure higher rates of appropriate referrals to existing mental health services, and, in doing, should reduce pressure on frontline services, including GP surgeries and A&E.
Speaking about the launch of the new service, Nicola Harvey YMCA DownsLink Group Digital and Engagement Lead said:
"We're delighted to be extending our e-wellbeing service to all adults, as its testament to the success of e-wellbeing for young people. Although we knew that young people would be confident and comfortable using digital platforms, the pandemic has shown that adults of all ages, including retirees, are much more digitally connected than ever before. Being able to access help and support online can also help people overcome their reticence at opening up about their concerns around their mental health. It can be a great way for them to come to terms with how they are feeling and prompt them to seek further help if they need it."
Commenting on the launch of the new website, Dr Rick Fraser, Chief Medical Officer at Sussex Partnership NHS Foundation Trust, which provides specialist mental health services to people of all ages in Sussex, said:
"We are delighted to have had so much involvement in the development of this new website. The strain that the Covid-19 pandemic has put on the mental health of our community is something we are aware of every day. This fantastic self-help resource will help provide information and signpost to a range of services to ensure people seek help and guidance to manage their mental health in the most effective way. The content on the website has been put together by Sussex Partnership clinicians, our own Experts by Experience and other partner organisations and made with the best interests of the community at heart. I'm confident it will help those who are struggling to open up, seek advice and have that first conversation about how they are feeling."
For more information or to access the new digital platform visit www.e-wellbeingadults.co.uk