Big Give Christmas Challenge: One donation, twice the impact
YMCA DownsLink Group is delighted to have been chosen to take part in the UK's biggest, online match funding campaign – the Big Give Christmas Challenge 2022! The campaign launches at 12pm on 29th November and runs until 12pm on 6th December.
Our goal is to raise £10,000 in donations during the week of the appeal, which will be matched by our pledge partners The Together Fund, Best at Digital and Burt Brill and Cardens. Meaning a total of £20,000 to support young people in crisis this winter.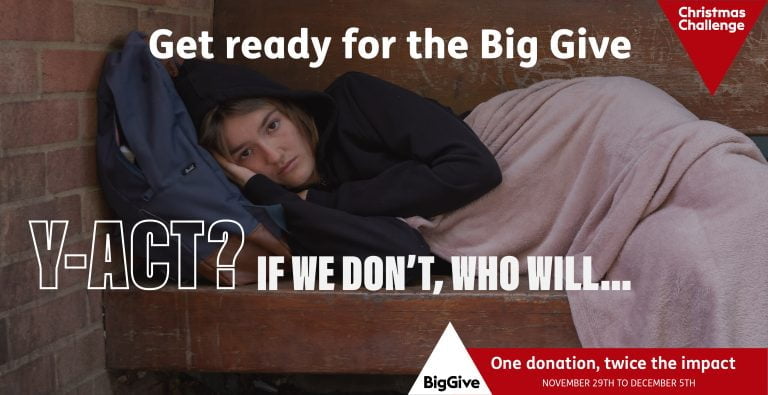 How do I donate to the appeal?
All donations must be made to our Big Give appeal page, any time during the week of the appeal (you won't be able to donate until the 29th November – but why not join our Big Give Facebook Event to get a reminder). The process is super simple – click donate, choose your donation amount and that's all there is to it. If the match funding runs out before the appeal ends, you can still donate to help us transform more young lives.
Where your funds will go
Funds raised will enable us to support all those vulnerable, young people we know will walk through our doors this winter. Together, we can provide them with a safe place to stay and the advice and support they need to get back on track and on the path to independence.
 The impact of your gift
Charities like ours are facing increased demand for support from young people struggling in the face of the cost-of-living crisis, which is pushing families to breaking point and young people onto the streets.
Over the last two years, demand for our housing service has increased by 37% and we are anticipating an 80% in access to our advice centres this winter. Your gift will ensure we can be there for all who need us, during the coldest months of the year.
How else can I support the campaign?
We appreciate that it is a hard time for everyone right now and that some of you may wish to donate but don't have the means. Any support you can give us by sharing this campaign or liking us on social media would be gratefully received! Join our Facebook Event to discover how to do this.