Earlier this year, management trainees from Willmott Dixon teamed up with students from Greater Brighton Metropolitan College to help us refurbish St Patrick's so that we can provide 29 supported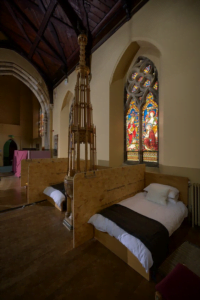 accommodation units as well as a communal night shelter.
Willmott Dixon helped manage the project and donated the materials required to refurbish the building during the eight-week project. As part of this, under the supervision of Willmott Dixon, students from Greater Brighton Metropolitan's construction and trades course volunteered their time to complete the required work. There was also huge support from Willmott Dixon's Supply Chain Partners who provided material donations, labour for the more technical elements and supervision for the students during the works. Mitie provided the M&E support with a large donation of materials and technical supervision, Everest Miles provided materials and labour for the decorations whilst Global Ceramics provided the material and labour to complete the tiling.
Our CEO, Chas Walker said:
"We're delighted to have worked in partnership with Willmott Dixon on this project, which will directly impact the lives of some of the most vulnerable in our community. Providing us with the materials to complete this refurbishment will have a significant impact on our bottom line which is crucial when budgets are so tight. We're also delighted that students from Brighton Metropolitan College have volunteered their time to help us, as it demonstrates just how much the whole community cares about homelessness in our city."
Well done to everyone involved!