Meet Elly. She's our amazing chaplain who's been cooking up a storm in Eastbourne. She's filled the freezers in our supported housing projects in Eastbourne (Eastbourne Foyer, McKendrick house and Grove House) full of nutritious food.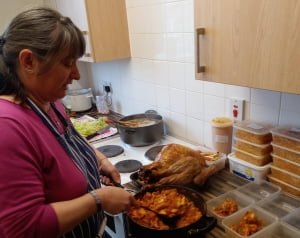 It's been a huge team effort and we've had help from Eastbourne Foodbank (food donations) and East Sussex County Council's, Through Care Team (£500), so that we can give our 60 vulnerable young people in Eastbourne a daily hot meal.
The donations have also enabled our amazing staff team to create individual "survival bags" containing essential items such as tea, sugar, milk, biscuits, fruit, cereal and tinned items, in case a young person needs to self-isolate.
We're very grateful to have such dedicated people working for us and looking after both body and spirit.